Devinci Django Carbon SX Complete Mountain Bike 2016
The Devinci Django Carbon SX Complete Mountain Bike is an all-around trail tycoon that borrows a trick or two from its more aggressive brother -- the Troy. With 120 mm of rear travel, and a trail-tune..
Brands Devinci
Product Code:

BRCL023

Availability:

In Stock
The Devinci Django Carbon SX Complete Mountain Bike is an all-around trail tycoon that borrows a trick or two from its more aggressive brother -- the Troy. With 120 mm of rear travel, and a trail-tuned 130 mm RockShox Pike RC fork, the Django sheds some of the Troy's travel to improve pedaling efficiency and responsive handling from the saddle. Flowing freely through technical climbs yet fearless through daring descents, the Devinci Django Carbon SX Complete Mountain Bike offers truly versatile performance thanks to its combination of trail-tuned suspension, highly responsive geometry, and lightweight carbon frame.
Frame/Shock
Carbon DMC-G Frame (120mm) – Enter DMC Gravity technology and a carbon repertoire for rides built to flow fast and smooth in rock-ravaged environments. Mountain-specific Devinci Carbon Monocoque G technology uses cross-hatched and unidirectional Torayca T700 carbon fiber layers, bolstered by high-strength epoxy resins and finished with a blast of Nano powder additive. This Devinci-exclusive recipe equates to ultra-lightweight frames, fine-tuned for knockout strength. Stand on the pedals, batten down the hatches, and watch dirt get demolished. DMC G -- World Cup annihilator and Steve Smith approved.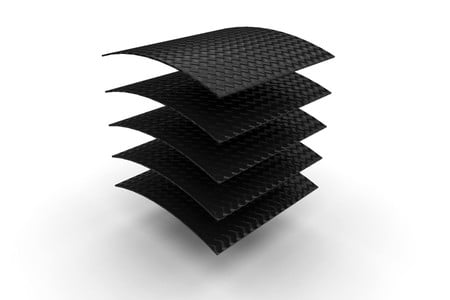 Split Pivot Suspension – Devinci Cycles was the first bike manufacturer to adopt Dave Weagle's patented Split Pivot technology. Today it represents the core of Devinci's full-suspension line-up. The genius of the Split Pivot suspension system is that it works in conjunction with you—the rider—for intuitive performance and a fully customizable feel. It harmonizes and maximizes bump compliance, traction, and efficiency—factors that are normally at odds with each other. The result is a buttery smooth ride with hyperactive small bump compliance and podium-crushing pedal stroke efficiency. The system is called Split Pivot because of its concentric rear dropout pivot built in line with the rear wheel axle, but there's more to it than that.
RockShox Monarch RT3 DebonAir HV – Featuring silky smooth travel in a new lightweight design, Monarch floats through bumps even better than before, turning rugged trails into tire-gripping velvet. The chassis is lean while maintaining the durability and adjustability needed to bite off huge chunks of burly trail action and epic cross country.
Shock Adjustments – External Rebound | 3-Position Compression (Open/Pedal/Lock) | Rapid Recovery Rebound Damping | Air Pressure Spring Adjust
Ultra-Short Chainstays – Pin-it acceleration, combined with superior driver's seat handling.
27.5 Dedicated – 2.35'' maximum tire clearance.
Internal Cable Routing – Provides protection from the elements and deluxe, aerodynamic styling.
Asymmetrical Construction – Milking the most performance out of every frame angle, improved torsional stiffness.
Boost 148 Standard – Stiffer rear wheel.
Axis & FRG Adjustable – Perfect balance, minimum unsprung mass, and prime hi/lo geometry adjustment for perfect settings.
Fork
RockShox Pike RC Solo Air – It is the new-school all-mountain and enduro riders' weapon of choice. It has received critical acclaim by the global mountain-bike media. It came out of the box and marched its way to an Enduro World Series overall title. And with good reason. PIKE was engineered to provide the plushest, most high-performance ride quality imaginable. Its Charger Damper with Rapid Recovery keeps you riding high in the travel, where the feel is plushest, and maintains your bike's natural geometry. Its stiffness to weight to travel ratios are unbeatable, meaning you get a lot more from a lot less. Better control from fewer and more intuitive rider inputs allow you to charge harder. Which equals time and energy for more laps. If all-mountain riding and enduro racing is how you describe a good day in the saddle, then PIKE should be on your ride.
Adjustments – External Rebound | Low Speed Compression to 'Lock'
Drive Train
SRAM X1 X-ACTUATION™ Rear Derailleur – Every detail of the 11-speed X1 X-HORIZON™ rear derailleur is engineered for smooth, reliable shifting action -- from the larger upper pulley offset to the 12-tooth X-SYNC™ pulley wheels. By eliminating unwanted chain movement, X-HORIZON™ shifts faster, puts an end to ghost shifting and reduces shift force and chain slap. And with CAGE LOCK™ technology, wheel removal and installation are easier than ever.
SRAM X1 X-ACTUATION™ Trigger Shifter – Put your finger on the pulse of sharp, dependable shifting with the SRAM X1 X-ACTUATION™ trigger shifter. Built for precise and swift shifting across SRAM's wide range 11-speed cassette, the X1 trigger shifter brings championship technology to every ride.
SRAM X1-1000 X-SYNC™ Crankset – Quality and durability combine in the SRAM X1 crankset to deliver consistent performance every time out. Featuring SRAM's X-SYNC™ tooth profile, the X1 crankset is engineered for complete chain control. Each tooth's thickness is CNC machined to work seamlessly with the chain's inner and outer links.
Shimano 11-Speed Chain – Reliable and precise shift execution.
SRAM 11-Speed 10-42T Cassette – Super wide 10-42T gear range. | Optimized gear steps across entire range. | Open design aids in mud clearance.
Brakes
SRAM Guide R – What's it going to take to ride that line? It's steep. It's rocky. You've passed it a hundred times. But not this time. With the all-new SRAM Guide R, you have the power. Proven 4-piston calipers give you smooth, one-finger control. Features like Reach Adjust let you dial it in just right. And Guide perfectly complements other SRAM components and gives you flawless performance on every ride.
SRAM Centerline Rotors – The Centerline Rotor was designed to keep the center of friction consistent throughout rotation thereby minimizing vibration offering consistent performance and a quiet ride.
Wheel Set
DT Swiss X1900 Spline® (Boost Rear Wheel) – The target for developing the X 1900 Spline® was to unite all the modern requirements for a wheel in a product that was attractive in terms of performance and price. This was achieved using a wide and extremely light rim, high-precision pawl system hubs and the extremely reliable straightpull spokes. Maximum trail fun without breaking the bank. The high-quality finish and the sophisticated product graphics ensure great looks too.
Maxxis High Roller II | Front Tire – The open and aggressive tread design gives the High Roller II excellent soil penetration and mud clearing ability. A square profile provides a solid, consistent feel across the knobs. Modified knobs on the shoulder and center improve braking performance and traction on hard surfaces. When gravity pulls you downhill, rely on the High Roller II to keep you upright.
Maxxis Ardent (Rear Tire) – An aggressive tread in high-volume casing, designed with great traction in mind. The Ardent doesn't forget the racer with large block-style side knobs offering numerous edges for high-speed cornering. The center tread, while ideal for braking and accelerating traction, also features ramped knobs to minimize rolling resistance. With a wide variety of size offerings, the Ardent captures every mountain rider's needs.
Additional Features
RockShox Reverb Stealth Dropper Seatpost – Don't let its familiar good looks fool you—Reverb is a whole new weapon. Its internals have been completely re-engineered to improve on its already legendary performance and to offer enhanced reliability: all the smallest details, down to the single seal, have been re-evaluated and updated to pass the hardest and longest durability tests. Additional bushing overlap also improves performance over time. This is the brand-new Reverb, engineered for the next-generation mountain biker.
Shipping Information
Oversize Item – can only be shipped via UPS Ground within the continental U.S.
Rear Travel (mm):

120

Front Travel (mm):

130

Stanchion Diameter (mm):

35

Rear Travel (in):

4.7

Frame Material:

Carbon Fiber

Bar Tape/Grips:

Devinci Performance w/ Lock-On

Wheelset:

DT Swiss X1900 Spline®

Warranty:

Frameset: Limited Lifetime | Pivots, Paint & Decals: 1 Year

More

Headset:

FSA Orbit 1.5 Zero Stack w/ SL Bearing

Rear Tire:

Maxxis Ardent Dual Compound EXO Protection | 27.5 x 2.25

Front Tire:

Maxxis High Roller II 3C EXO Protection | 27.5 2.3

Pedals:

None

Saddle:

ProLogo K3

Handlebar Shape:

Riser

Rear Shock:

RockShox Monarch RT3 DebonAir HV

Seatpost:

RockShox Reverb Stealth (125mm x 31.6mm)

Chain:

Shimano 11S

Cassette:

SRAM 11S 10-42T

Bottom Bracket:

SRAM BB92

Rotors:

SRAM Centerline F180/R160

Brake Calipers:

SRAM Guide R

Rear Derailleur:

SRAM X1

Shifters:

SRAM X1

Crankset:

SRAM X1 1000 30T

Stem:

V2 Pro (31.8 mm)

Used For:

Trail

Gearing:

1 x 11

Brake Levers:

SRAM Guide R

Handlebar:

Race Face Turbine 35 (725mm x 31.8mm)

Fork:

RockShox Pike RC Solo Air

Wheel Size:

27.5" (650b)

Front Travel (in):

5.1

Brake Type:

Hydraulic Disc