DPS Cassiar 79 Alchemist Trainer Skis 2019
Ever wish you could arc your skis and lay it over like those heros on the World Cup, but afraid to try a true race ski? We don't blame you, but consider the DPS Cassiar 79 Alchemist Trainer Skis to st..
Brands DPS
Product Code:

KIS039

Availability:

In Stock
Ever wish you could arc your skis and lay it over like those heros on the World Cup, but afraid to try a true race ski? We don't blame you, but consider the DPS Cassiar 79 Alchemist Trainer Skis to start feeling the G-forces at mere mortal speeds. The Cassiar A79, only available in the Alchemist layup, will "train" you to start using proper turn technique to control your speed, preferring clean short radius turns to sloppy GS style speed mitigation, and we think you'll have the time of your life doing it.
Flex
Flex Patterns – It took over 25 flex pattern iterations to get to the special goodness that is found in a C2 chassis ski. The tip is just aggressive enough, but nimble to handle crud and moguls. The middle is firm, and the tail is weighted to thread a precise needle between an ultra- easy exit and energetic propulsion into the next turn.
Sidecut
Sidecut Design – Chassis 2 sidecuts feature a blend of strategically placed radii that make the ski aggressive at the top of the turn, but also incredibly friendly when the ski is off-edge and drifting in mixed snow. That, coupled with varying radii in the tail section, make a C2 ski more friendly off-edge than anything DPS has built to-date in the sub-20m sidecut category. Further, these skis feature relatively high taper angles, which means the ski pulls you deeply into the turn with an immediate, responsive feel. With the introduction of C2, the days when carbon skis were subject to torsion chatter––the feeling of the ski skipping and vibrating in an attempt to match the ski's designed turn radius––are a thing of the past.
Shape
Chassis Design – In ski design, there is a conventional hierarchy of variables that drive the end shape. DPS has re-prioritized and reorganized these drivers so that the design now starts directly under your foot and moves outward to the tip and tail, as opposed to overlaying flex patterns on pre-drawn shapes. The result is an optimized relationship between the flex pattern and sidecut that is perfected through testing, and then mathematically translated across every model in the lineup. The goal is to create a distinct DPS feel that can be sensed in every ski from the Cassiar 82 all the way to the Lotus 124.
Laminates
Alchemist Pure Carbon – The world's most advanced ski construction takes a significant evolutionary step forward. Alchemist pure carbon skis are the ultimate expression of the craft. Next-level, vibration-tuned aerospace grade carbon ski construction melded with absolutely the finest in supporting materials. Alchemist skis retain the same historical shapes as their Pure3 predecessors, but due to the construction upgrades are notably damper and smoother in mixed and firmer conditions.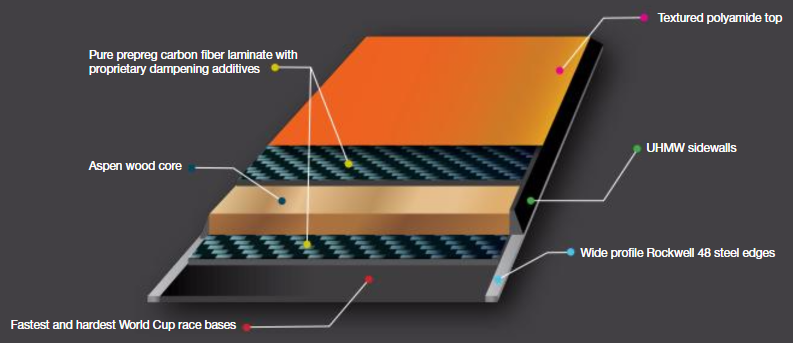 Textured Polyamide Topsheet
Base
Fastest & Hardest World Cup Race Bases
Edges
Wide Profile Rockwell 48c Steel Edges
Additional Features
Mounting Points – Cassiar and Uschi designs are centered around a prescribed mounting point in relationship to the overall ski length. It's more forward than older generation footprints. This keeps your center of mass moving constantly forward in mixed snow and terrain more so than in traditional carving and racing skis. You stand in an incredibly balanced position that also sits in concert with the flex pattern and sidecut. The result is a more neutral and poised stance that reinforces and stokes smoothness for athletic skiing to shine.
Binding Compatibility
We recommend a brake width equal to or at most 15 mm wider than the ski waist width.